We have made our live blog of the coronavirus pandemic free for all readers. Please consider supporting our journalism with a subscription.
Summary
Australia's death toll stands at 21 after the death of a person at Orange Base Hospital on Wednesday. There have been 4860 cases of COVID-19 diagnosed in Australia.
Deputy chief medical officer Paul Kelly says it's impossible to defeat the coronavirus without a vaccine, which could take 18 months to develop. He also is urging Australians, particularly aged over 65, to get their flu vaccine as soon as possible.
More than 60 wharfies have been stood down for refusing to unload cargo from a fully laden ship from China carrying toilet paper, surgical masks and tinned food due to fears they could catch coronavirus.
NSW Premier Gladys Berejiklian has urged her state's local businesses to "re-tool" and make medical supplies such as face masks and hand sanitiser in light of global shortages.
Minutes of the Reserve Bank's meeting reveal fears that the economic fallout from the virus pandemic will last over a year. However, the meeting ruled out negative interest rates as a strategy to address the downturn.
has mobilised an unprecedented pandemic sub-register to get more than 40,000 retired doctors, nurses, midwives and pharmacists back into the healthcare system to join the coronavirus resistance.
The number of coronavirus cases linked to Adelaide Airport has now increased from six to 13, with five more baggage handlers and two family members now testing positive to the virus.
The Reserve Bank fears the economic fallout from dealing with the coronavirus pandemic could stretch well into the second half of the year while signalling interest rates will remain at record lows for an extended period.
Over a quarter of a million tests have now been conducted for COVID-19 across Australia, with the nation facing a 1.9 per cent positive rate.
A ship from China carrying toilet paper and other essentials is sitting fully laden on Melbourne's docks, after wharfies refused to unload it, citing coronavirus fears.
The workplace tribunal has announced plans to give unpaid "pandemic leave" and more annual leave at half-pay to millions of workers.
We will continue our coronavirus coverage overnight with Latika Bourke in a couple of hours. Sarah Keoghan signing off.
The England and Wales Cricket Board has announced a £61 million ($124m) relief package to "keep the lights on" and tackle what its chief executive, Tom Harrison, labels the biggest challenge it has faced in its history.

Cricket Australia is also examining what impact coronavirus might have on its own season, including a potential postponement of the Twenty20 World Cup and the worst-case scenario of a home Test series against India being abandoned, but it at least has time on its side.
English cricket, by contrast, has been hit head on by the global health crisis, just like Australia's winter football codes, and faces enormous financial losses across the board, from its head office at Lord's to cash-strapped counties.
Australia was losing access to urgently needed medical supplies because of restrictions on shipping and foreign governments paying high prices upfront.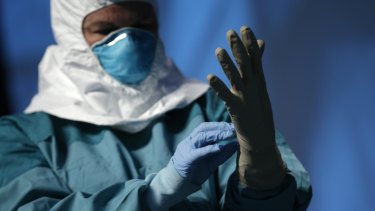 Equinox Medical chief executive Philip Crealy said a number of companies – including logistics and freight specialists, airlines and management consultancies – had contacted him since Sunday to offer help.
He needed to ship more than 30 tonnes of hospital gowns, face masks and other personal protective equipment (PPE), ventilators and COVID-19 diagnostic tests destined for Australian hospitals and aged care homes.